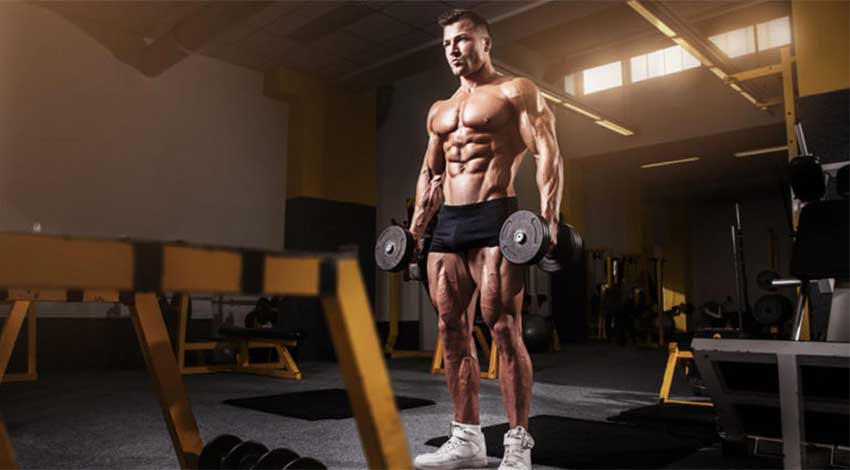 Primobolan (Methenolone) enanthate
Primobolan enanthate (Primo), also known as metanolone enanthate, is an injection version of the Methenolone steroid. Like Drostanolone, Winstrol, Anadrol, and Oxandrolone Steroid is a derivative of dihydrotestosterone.
Bodybuilders and women athletes call it the safest long-acting drug, a proven time that has moderate anabolic and low androgenic properties. Primarily Primobolan is used during the drying period, when mass recruitment is not a priority, and at the exit from the course.
For those who are ready slowly but surely for several weeks, to increase their muscles without fear of serious side effects Primobolan is what you need. With Primobolan, one should not expect bloated muscles, which are promoted by other steroids, are prone to aromatization, but nevertheless the athlete's muscles will be of high quality. Therefore, the drug deserves attention. Many athletes still ignore the steroid because of its high price and the abundance of sports pharmacology on the market.
What does Primobolan give to a bodybuilder?
increase in muscle mass,
productivity increase,
strengthening the immune system,
fat burning.
The main ingredient of which is a steroid-methenolone (Methenolone). This hormone was first released in 1962. After several years of intermittent production, the German pharmaceutical company Schering received the right to receive it. The drug was introduced in the market under the name Primobolan. This is basically a European product that has never been produced in the US. In 1989, the steroid began to produce South Korean JW Pharmaceutical and to supply the US and Canada to the market.
It should be noted that the drug was used to treat children with underweight or premature babies. In medicine, the substance is still regularly prescribed to those patients who suffer from osteoporosis and sacropery, that is, loss of skeletal muscle mass due to aging.
In the 70's, in the era of the "golden age" of bodybuilding, Primobolan became extremely popular. It is generally accepted that this is Arnold Schwarzenegger's favorite steroid. But there is no proof of this, of course.
The mechanism of action of Primobolan
The ether of enanthate causes a slow and gradual release of the substance from the injection site. Thus, the duration of its activity will be very similar to the activity of testosterone enanthate, while the blood level remains significantly higher for about two weeks. Methenolone itself is a long-acting anabolic with extremely low androgenic properties.
Primobolan plays an important role in enhancing protein synthesis. The steroid also inhibits nitrogen, calcium, sodium, potassium, chlorine and phosphorus. This, in turn, leads to an increase in muscle mass and accelerated bone growth. Primobolan results also plays a role in moderately increasing the number of red blood cells. All this contributes to the safe and effective appearance of dry muscles.
While most anabolic steroids play an important role in increasing metabolic rate, there are studies proving that Primobolan also can significantly affect fat burning. In this case, muscle tissue and its mass remain safe.
It is also extremely useful as an agent for enhancing immunity. Therefore, the drug is regularly used to treat patients suffering from AIDS and other diseases, where muscle loss is a significant problem.
An important point. One of the biggest advantages of Primobolan depot is that the steroid does not become estrogen, like other steroids derived from dihydrotestosterone. This means that the list of side effects of Primobolan is significantly shorter. That is, the drug does not promote water retention in the body and does not lead to the accumulation of excess fat. He also does not kill the liver of the bodybuilder, as well metabolized and excreted.
How to take Primobolan
Experienced bodybuilders claim that to increase muscle the most successful options are Masteron and Primobolan. These steroids will be an ideal option for beginning bodybuilders and women. But the latter are more likely to prefer Primobolan cycle, since it is rather mild in nature compared to other anabolic steroids.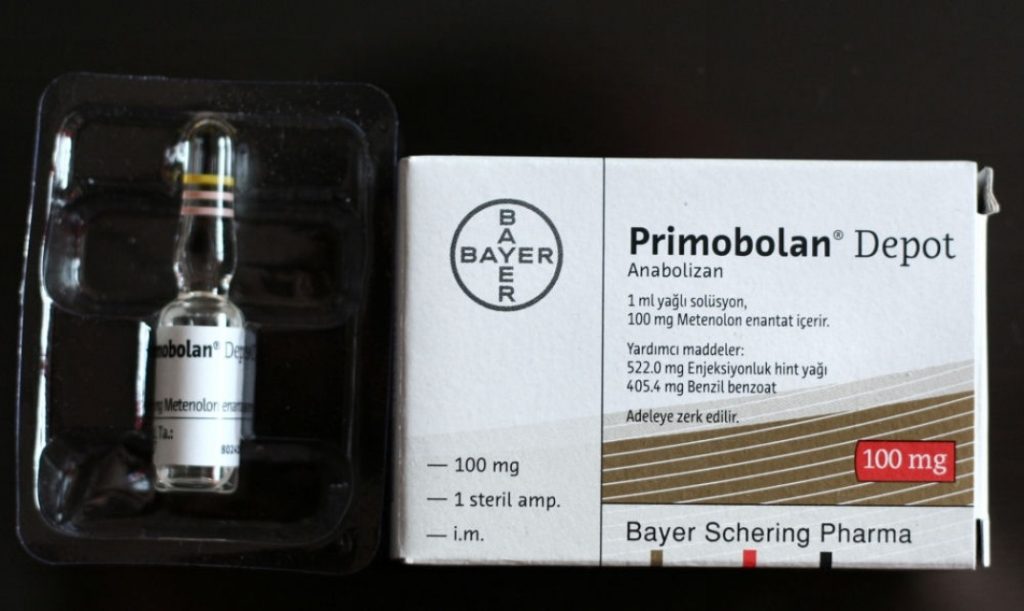 The standard dose for men is 200 mg per week. But large doses, as noted by bodybuilders, are also well tolerated in most cases. It is 400-600, 800 mg or even 1000 mg per week for 6-12 weeks. It should be remembered that high doses of any drug are close to the appearance of side effects, as well as to suppress testosterone levels.
When drying, Primobolan depot is combined with halotestin or trenbolone. Together, they contribute to an increase in the volume of muscles and improve their overall appearance. For weight gain, testosterone, boldenone, dianabol or anadol 50 are suitable.
As for women, for them the standard dose of Primobolan is from 50 to 100 mg per week. Some bodybuilders are recommended to take the drug in combination with Turinabol or Oxandrolone. Athletes also can follow a course of 6 to 12 weeks.
Approximately 14-18 days after the last injection of Primobolan, appropriate post-course therapy with Tamoxifen and / or Clomid will be required. Some athletes practice after-treatment therapy 5 days after the last injection, if the weekly dose was 400 mg, and after 10 – if the bodybuilder used 1000 mg per week.
By the way, the oral version of Primobolan enanthate is weaker, so bodybuilders prefer it to injections. Another steroid is great for a "bridge" between courses.
Possible side effects of Primobolan
Like all anabolic steroids, Primobolan cycle also has its share of side effects. The difference from other steroids is that unwanted effects are soft and not difficult to control.
Side effects of Primobolan dosage in men – acne, hair loss and other similar problems. However, hair loss will be more noticeable in men who suffer from alopecia. Anabolic can adversely affect blood cholesterol levels, reducing "good" HDL cholesterol, which can put at risk of atherosclerosis. In the risk zone are both men and women.
The side effects of Primobolan dosage in women are virilization, a condition in which athletes develop such male characteristics as facial hair, a deep voice. Increased clitoris, menstrual irregularities, acne and insomnia are also possible with Primobolan in women. Aggression is another effect of anabolism, which is often associated with undesirable. However, most bodybuilders rarely experience significant side effects.
What you need to know about Primobolan
Primobolan enanthate comes in ampulahili medical bottles of 100 mg each. This means that the athlete will need to do some very painful injections every week. Some laboratories produce a steroid in vials of 200-300 mg, using other ethers.
Currently, Primobolan is often counterfeited, so many bodybuilders prefer to go more severely with a steroid such as Trenbolone, for example, which is much cheaper and less likely to counterfeit. Because of this, Primobolan results remains undervalued.
Making conclusions one can say – it is a more suitable drug for those who wish to reduce the amount of subcutaneous fat and achieve better quality muscles. For those who want to gain a significant amount of muscle mass, Primobolan is not the best choice, since there are more effective and less expensive anabolic drugs for this purpose. As for women, the majority of reviews of the beautiful half are positive. In principle, it is already clear why.